Personal Injury – Truck Accidents
Truck Accident Attorneys in Elkhart, IN
Have you been involved in a truck accident? Our Elkhart truck accident attorneys can help you.
Staying safe behind the wheel should always be the priority of a driver. Driving a large and heavy vehicle such as a truck, semi-truck, or tractor-trailer requires proper training and strict road safety regulations. The primary driving principles are similar to a passenger car, but controlling and maneuvering it may vary in several aspects. If you've been the unfortunate victim of a truck accident, our truck accident attorneys in Indiana can help you through this process. Contact our Elkhart truck accident attorney today to schedule a personalized case evaluation.
Get compensated for your truck accident injuries in Indiana!
A large truck is significantly heavier than a passenger vehicle. Therefore, if a truck is involved in an accident, it can cause serious injuries and catastrophic damages, especially when traveling at high speed on the Interstate.
Truck accident victims will be burdened with huge medical expenses, pain, suffering, lost wages, lost earning capacity, and wrongful death. If you're injured in a truck accident, you must get legal help from a reliable Elkhart personal injury lawyer in understanding your rights as a truck accident victim. Call us today at Wilson & Kinsman LLC by dialing 574-500-2087.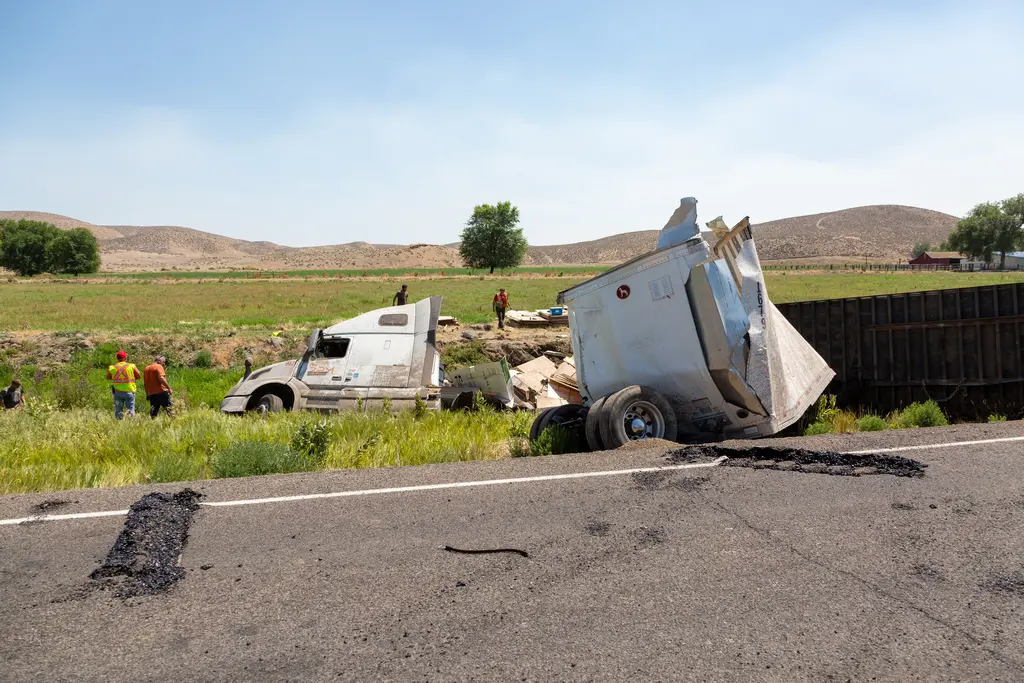 When anyone involved in the care or driving of a large truck is careless, a deadly accident can happen. As with most other types of motor vehicle accidents, nearly all truck accidents are caused by driver error of one kind or another. A truck driver who causes an accident may have violated federal regulations or safety rules. Here are the most common causes of truck accidents:
Reckless driving
Poor training and maintenance

Distracted driving

Driver Fatigue
Over speeding
Other external factors that can affect road safety include defective vehicles, carelessness of pedestrians, and bad weather or roadway conditions. These factors often cause a head-on collision, car rollover, car crash, or truck wreck.
If you or someone you know has been involved in a truck accident, our Elkhart truck accident attorneys can provide legal assistance and help you receive fair compensation. Wilson & Kinsman LLC serves clients from Elkhart, Goshen, Michiana, South Bend, and nearby counties. Schedule a consultation with our Elkhart personal injury attorneys today!
What Steps Should You After a Truck Accident?
When you are injured in a truck accident, you'll likely be in a state of shock and may not be able to think clearly. However, remember that your next actions after a truck accident can significantly affect your chances of obtaining maximum compensation when you file for a personal injury claim.
If you've been injured in a truck accident, consult a trusted Elkhart truck accident attorney so we can help you get the compensation you deserve. Here's what you need to do after a truck accident:
Assess Your Injuries
The first thing you can do after a truck accident is to check whether anyone is injured. Call 911 as fast as you can, report the details of the truck accident, and request medical assistance. If there's a trained first responder on the scene, they may provide first aid assistance to an injured victim, depending on the severity of the injury.
Move to Safety
It is essential to ensure that everyone will be moved to safety. However, moving car accident victims can sometimes worsen their condition. In most states, the law does not permit the unauthorized removal of bodies of injured or deceased accident victims. Therefore, it is highly advised to seek medical treatment from trained emergency responders during a truck crash. It is also recommended to move any drivable vehicles from traffic.
Seek Medical Attention
Even if you feel that you're not seriously injured, it's highly advisable to see a doctor to get medical treatment. Many injuries from a truck accident may not manifest right away. They may have very subtle symptoms, or initially no symptoms at all. Your doctor may be able to diagnose problems and get you medical treatment at an early stage.
Contact the Authorities
After a serious truck accident, it's important to contact the authorities and report the truck crash as soon as possible. Doing so will make sure that help arrives for you, your passengers, and anyone else who might need immediate assistance. When they arrive, you must give them a factual, complete, and accurate statement of the accident.
Exchange Contact Information
All accident victims, drivers, and eyewitnesses must provide personal information such as contact details, driver's license information, insurance, and car registration information. After you leave the scene, it might be challenging to track down everyone involved in the accident. Thus, you must have the information you need to contact them.
Document the Accident Scene
Take photos from multiple angles of all the trucks and vehicles involved in the accident. Take clear pictures of the damage to all vehicles, barriers, guardrails, and other damaged objects. Then, document all relevant skid marks, sightlines, and the state of tires on the truck itself.
If you or someone you know has been involved in a truck accident, our Elkhart truck accident attorneys can provide legal assistance and help you receive fair compensation.
Don't Talk to Trucking Company or Insurance Company Representatives.
Trucking companies and their insurance companies usually send a representative to an accident scene. These representatives may seem to act helpful and offer compensation in exchange for some brief statements. Often, they might use the statements you give at this time to reduce your compensation or even prevent you from filing a truck accident lawsuit.
Unfortunately, their "help" means protecting their companies' interests. You should at least have the offer looked at by a credible personal injury attorney in Elkhart to ensure that the compensation offer reflects the actual cost of your injuries.
Contact a Truck Accident Attorney
If you were injured in a truck accident that leads to pain and suffering, lost wages, diminished quality of life, and substantial medical expenses, you must get help understanding your rights as a victim. The stakes are high in truck accident cases, especially when you have suffered a catastrophic injury. If the truck accident resulted in a fatality, you might want to pursue a wrongful death lawsuit. A trusted Elkhart truck accident attorney can help you with all legal aspects of your claim so that you can focus on your recovery.
How to Choose the Right Truck Accident Attorney
There are personal injury lawyers specializing in truck accidents and experienced in determining future long-term costs associated with severe injuries. They'll know how to handle the trucking companies or any other responsible parties and hold them accountable.
If you have been injured or lost a loved one in a truck accident, you need legal help to get a fair settlement for your injuries. A competent truck accident attorney in Elkhart has the knowledge and skills to represent you and help you receive the proper compensation you deserve.
Here are a few tips on how to choose the best truck accident attorney for your injury case:
Ask for Recommendations
Before choosing a truck accident attorney, it is essential to ask your family and friends for recommendations. Furthermore, one way to determine the best truck accident attorney for your case is to read client testimonials. Looking at the law firm's reviews is a great place, to begin with. Look out for not only the outcome of the case but also the experience clients had working with their truck accident attorneys.
Research About Their Success Rate
You can visit your lawyer's website and check the credentials and track record of their verdicts and settlements in truck accident cases. Many truck accident attorneys track their ongoing success rate, which can be measured by how many claims they win for clients and how much compensation they help clients receive for their injuries. Checking the truck accident attorney's success rate can help you feel at ease in knowing that a lawyer you are considering has a proven track record.
Schedule Interviews
Make a list of the truck accident attorneys who you may want to represent you and schedule an interview with them. Talk to the attorneys about your case, listen to their advice as well as their predictions about your case. During the interview, the lawyer gets the chance to know you as well. Whether an attorney wants to take your case will depend on the facts of your case.
Truck Accident Attorney Fees
While conversing with your truck accident attorney, feel free to discuss fees and expenses. Figuring out what your lawyer charges and how these charges are incurred helps you avoid unexpected and high costs. Many lawyers work on a contingency-fee-basis, meaning they will not charge you unless and until you receive your settlement. Their charges will be a percentage of your compensation.
Make a Decision
Your truck accident attorney must be helpful, understanding, supportive, and who you know is on your side. Your injury case is too important to leave it to the hands of an attorney you don't fully trust. However, keep in mind that your lawsuit is subject to a statute of limitations, so don't put off the decision-making for too long. Be sure to choose a truck accident lawyer who is willing to take the time to fight for a fair settlement on your behalf.
If you've been injured in a truck accident, consult a trusted Elkhart truck accident attorney so we can help you get the compensation you deserve.
Talk to a Truck Accident Attorney in Elkhart, Indiana Today!
Being involved in a truck accident can be life changing. Although the road to recovery might be complicated and challenging, do not forget that there are several ways to recover from your devastating losses. If you have never been involved in a truck accident before, you probably don't understand the laws and procedures that govern the processing of a truck accident claim.
If you or someone you know has been injured in a truck accident, motor accident, or car accident, our experienced Elkhart personal injury attorneys from Wilson & Kinsman LLC can provide legal assistance. We can help you receive the compensation you deserve. We will fight for you and be with you every step of the way. Call our Elkhart personal injury law firm at 574-500-2087 and schedule your case evaluation today.
Testimonials
Read what our former clients have to say:
A man of utmost integrity
Tom is very kind and personable. He is a great attorney to work for and work with. He is a man of the utmost integrity and is forthright in his practice. I would confidently recommend his legal services to any person I cared about.
Kayla Christofeno
Honest and professional
I was charged with an OWI in Elkhart County and Eric was my first call. He was very helpful and personable throughout the entire process. I certainly appreciated his honesty and professionalism. Eric is definitely well experienced in handling these matters. Thanks to his help and guidance, we were able to have all of our necessary steps done before going to court that helped to retain driving privileges. The judge even remarked at how well the case had been managed during the hearing. With Eric's help, I was able to obtain specialized driving privileges very promptly. I am still able to tend to my life's responsibilities and my work. I would highly recommend Eric to anyone else needing help with OWI/DUI charges.
anonymous