If you have been involved in an accident, you'll understand how devastating its effects can be. Not only would you receive damage to your property (which you have to pay for to get fixed), you might also be injured in the process too. If it's bad enough, you might have to be hospitalized, receive treatment, and miss work- you'll have to not earn money and spend money in the process. On top of that, the worst-case scenario is someone could die.
This is why if you were placed in harm's way in an accident due to the fault of the other, you are within your rights to demand compensation, even if it means taking things to court. However, this right does not last forever- there is only a certain period when you are allowed to file a case against someone on the grounds of personal injury, this is called the statute of limitations.
If you were involved in an accident, you should contact one of our injury lawyers at Wilson & Kinsman, LLC right away, an Elkhart, Indiana personal injury law firm. We can advise you on your legal rights and help you receive the compensation that you deserve, as soon as possible.
Statutes of Limitations for Personal Injuries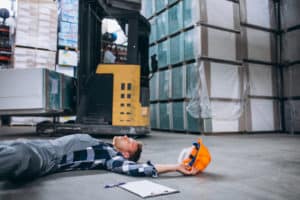 In Indiana state law, the policies governing the statute of limitations for personal injuries are in Indiana Code 34-11-2-4. In general, it gives a person (the plaintiff) a "time limit" of two years to file a case against the offending party (the defendant). The timer starts on the day of the accident.
Under the code, the victim of an accident is allowed to demand remuneration for the costs of the incident including damages to the home or other real property, personal property damage, disability costs, medical expenses, lost wages (present and future), loss of companionship, as well as for pain and suffering, and emotional distress.
These are the general rules for the statute of limitations and apply to anyone who was involved in the accident. This includes the driver, a passenger, a pedestrian, a person riding a bicycle, etc. However, there are a few exceptions.
Injuries to Children
Children below 18 years old cannot file a personal injury lawsuit so their parents can file it on their behalf, otherwise, they can file it themself once they reach 18 years of age.
In case their parents do not file on their behalf, their statute of limitations starts on their 18th birthday. This means that if a person was injured as a minor, he can file a lawsuit against the defendant until two years after his 18th birthday.
Wrongful Death
In cases of wrongful death due to the incident, the victim's surviving relatives can file a personal injury case on his behalf from two years after his death. However, not all relatives are legally allowed to represent him- the only people who can do so are the successors of his estate as indicated in his will or according to Indiana succession laws in cases of intestacy.
Cases Against the Government
For cases against a state government agency, a filer is given 270 days from the day of the accident to file a personal injury claim. For injury claims against the city or county, a plaintiff is given 180 days.
Also take note that in cases where the government is the defendant, the rules for filing a case may be a bit different as given in laws such as the Federal Tort Claims Act. Additionally, if the government is the defendant, the plaintiff is never awarded punitive damages (an amount that can be awarded on top of damages) and the maximum cost of the damage you may sue for is only $700,000.
Personal Injury Law is a very complicated area of the law with many different rules and exceptions, so if you were involved in an injury accident including motor vehicle accidents, auto accidents, or malpractice, it is best to get in touch with an Elkhart IN accident lawyer that can inform you of your rights and help you take legal action.
Why Should You Immediately Get a Personal Injury Attorney?
If you have been involved in an incident including negligence, a slip, and fall, car accident, or even medical malpractice, the very first thing you should do is contact a personal injury lawyer here at Wilson & Kinsman, LLC for a couple of reasons.
Not Missing the Statute of Limitations
The most important thing in filing any case is to not miss the deadline because doing so almost guarantees that your case will simply be dismissed upon the request of the defendant, so time is of the essence.
Our Elkhart, Indiana personal injury attorneys are knowledgeable on both the federal laws and state laws that govern the filing of personal injury cases in Indiana. This allows us to know your rights and know your limitations when filing within the state.
Preserving Evidence
Apart from the limitations, the evidence needed to file a successful case is also time-sensitive. It is important to acquire the evidence immediately because it may be deleted as in the case of CCTV footage, or for witness statements, the witnesses' memory of the incident may not be as clear, so it is best to acquire evidence as early as possible.
Avoiding Mistakes
Once you are involved in an accident, it is not just you who will be working on it- both the defendant and the insurance companies involved will also immediately get to work to devalue or discredit your claim.
As personal injury lawyers, we at Wilson & Kinsman, LLC know the tactics that may be used to gain the upper hand. We'll advise you against these and protect your rights as the victim. We also believe that as the victim of an incident, you should focus on getting better instead of having to worry about the law and people trying to take advantage of you even further. Contact us today and let us take care of your case for you.
Share This Story, Choose Your Platform!
Testimonials
Read what our former clients have to say:
A man of utmost integrity
Tom is very kind and personable. He is a great attorney to work for and work with. He is a man of the utmost integrity and is forthright in his practice. I would confidently recommend his legal services to any person I cared about.
Kayla Christofeno
Honest and professional
I was charged with an OWI in Elkhart County and Eric was my first call. He was very helpful and personable throughout the entire process. I certainly appreciated his honesty and professionalism. Eric is definitely well experienced in handling these matters. Thanks to his help and guidance, we were able to have all of our necessary steps done before going to court that helped to retain driving privileges. The judge even remarked at how well the case had been managed during the hearing. With Eric's help, I was able to obtain specialized driving privileges very promptly. I am still able to tend to my life's responsibilities and my work. I would highly recommend Eric to anyone else needing help with OWI/DUI charges.
anonymous