Brain Injury Attorney in Elkhart, IN
Traumatic brain injuries (TBIs) are permanent and can alter a person's entire life and career. After being detected having traumatic brain damage, you may need proper medical care and join in physical and occupational treatments and sessions.
If someone else's carelessness or misbehavior caused your traumatic brain injury, you might be eligible for monetary settlement.  Hiring a skilled Elkhart traumatic brain injury lawyer at Wilson & Kinsman LLC will assist you in pursuing justice! We're offering free consultation at our legal office, or call us at 574-891-5084 to discuss your injury case!  
Why do I need a Brain Injury Attorney in Elkhart, IN?
Higher chance to receive maximum possible compensation
You shouldn't have to shoulder medical expenses alone when someone else causes your injuries. The responsible person should be made to pay you damages for all the ways your injuries or the accident have affected your life.
You can claim an accident settlement for your injuries in several ways. These typically involve submitting an insurance claim and taking your case to court. In this article, I will give you  further information on what to anticipate from each of these guidelines:
Better negotiation with insurance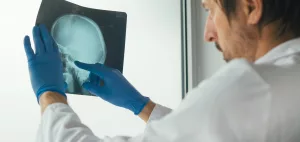 In most traumatic brain accident cases at Elkhart, the responsible party is represented by an insurance company. For example, the guilty driver should be covered by automobile insurance if a car crash results in a traumatic brain injury.
Unfortunately, you cannot guarantee its success. It's highly doubtful that making an insurance claim will fully compensate you for your losses. Insurance companies need only the policyholders' policy limits to pay for costs. The insurance provider will only pay for your damages up to this restriction if your losses exceed the amount of coverage the policyholder selected.
The damages you might collect will also vary depending on insurance coverage. For instance, your hospital bills would only be paid if the at-fault person obtained bodily injury insurance coverage. Another bad news is that any non-economic damages are unlikely to be compensated by the insurance carrier. In this case,  You might need to hire a lawyer and bring a legal complaint against the accountable party if you wish to get paid for these damages.  
Our skilled and competent Elkhart personal injury lawyers aim to get you the just payment you deserve. Insurance companies are businesses with profit in mind. They may use all sorts of tactics to shortchange you to accept a settlement much lower than you deserve. We know how to deal with these tricky insurance agencies and preserve your rights! 
Strengthened representation in Court
If you suffer from Traumatic Brain Injury, restoring your maximum health as soon as possible is important. However, the insurance firms are too focused on earnings, so it is expected that they will not fully compensate you for your damages. You might be able to get all of your losses covered by compensation if you take your case to the courtroom. 
By bringing up a case against the parties in charge of your traumatic brain injury, you might be able to maximize the value of your complaint. In your case for a traumatic brain injury in Elkhart, Indiana, you could ask for both economic and non-economic losses, such as: 
Lost Income 

Medical Costs and Hospital Bills 

Emotional Distress 

Disfigurement and Skin Scarring
What is Brain Injury?
Traumatic brain injuries are among the most tragic injuries that may strike a person. It can take place in a variety of conditions. Some of the situations that have been related may result in serious injury in the brain, such as:
Defective Products 

Drunk Driving

Swimming Pool Accidents 

Work-Related Accidents 

Ladder Accidents 

Bicycle Accidents 

Bus Accidents 

Slip-and-Fall Accidents 

Taxi Accidents 

Trampoline Accidents 

Car Accidents 

Construction Accidents 

Elevator Accidents 

Trucking Accident 

Motorcycle accidents

Pedestrian accidents
Traumatic brain Injuries can happen in several ways. So, if you were injured in another devastating incident but aren't sure you have the legal right to pursue a claim after the accident, a personal injury lawyer from our firm can thoroughly evaluate your case with appropriate legal actions! Do not hesitate to give us a ring!
Frequently Asked Questions about Traumatic Brain Injuries in Elkhart, IN
It can be stressful to file a traumatic brain injury claim in Elkhart, Indiana. We know that you may be confused about some of the complaint procedures, the potential value of your lawsuit, and what to anticipate. So in light of this, we have provided answers to some of the most frequently asked questions (FAQs) about traumatic brain injury cases in Elkhart, Indiana. 
Please do not hesitate to visit our law office if you have any further queries about any legal issues regarding your case. Rest assured that we will treat your case with confidentiality! 
Should I attend the  Court once I submitted my Personal Injury Case?
Yes. You should be ready to take your case to court if required. When an insurance settlement that satisfies your requirements cannot be achieved, taking your case before a judge and jury may be your best course of action.
Do I need to provide a statement to the Insurance Agency?
No. Giving an insurance company a statement without first discussing it with your Elkhart TBI lawyer is never a wise option. You don't want to take a chance that the insurance adjuster would distort your words to assign you undeserved blame.
Instead of sending the insurance company a statement, refer them to your traumatic brain injury lawyer in Elkhart, IN, who can give them the information they require to handle your case. 
How do I know if I'm qualified to claim Punitive Damages?
This will all depend upon the situation. According to the specifics of your situation, you might be granted punitive damages for your traumatic brain injury. Only in cases where the judge believes the defendant's behavior to be intolerable or severe are punitive damages granted.
Over and above the compensatory damages you are eligible for, punitive damages were meant to penalize the person at fault.
Call our Elkhart Brain Injury Attorney Now!
In order to receive proper compensation and present the strongest defense possible, you must take many crucial measures immediately. At Wilson & Kinsman, LLC, we offer personalized case evaluation and will give you an honest, accurate, and fair analysis of your situation if you want to file for personal injury lawsuits. 
Get in touch with our Elkhart brain injury attorneys to consult with our skilled defense lawyer before the wheels of justice run you over. We're here to serve you and protect you. Setting up the first consultation carries absolutely no risk for you. Everything we talk about will be kept completely private.
Testimonials
Read what our former clients have to say:
A man of utmost integrity
Tom is very kind and personable. He is a great attorney to work for and work with. He is a man of the utmost integrity and is forthright in his practice. I would confidently recommend his legal services to any person I cared about.
Kayla Christofeno
Honest and professional
I was charged with an OWI in Elkhart County and Eric was my first call. He was very helpful and personable throughout the entire process. I certainly appreciated his honesty and professionalism. Eric is definitely well experienced in handling these matters. Thanks to his help and guidance, we were able to have all of our necessary steps done before going to court that helped to retain driving privileges. The judge even remarked at how well the case had been managed during the hearing. With Eric's help, I was able to obtain specialized driving privileges very promptly. I am still able to tend to my life's responsibilities and my work. I would highly recommend Eric to anyone else needing help with OWI/DUI charges.
anonymous