In Indiana, drug-related crimes such as possession of illegal drugs, drug trafficking, and distribution, and even DUI (driving under the influence) can be punishable by law and may carry serious consequences such as imprisonment in jail or termination from a job. In this article, we'll focus on drug possession crimes and how they're classified in Indiana.
The federal government and the states control and regulate the possession of drugs, although each varies in its definition and punishment for possession of controlled substances. Heroin, cocaine, and marijuana are some of what are considered controlled substances. Possessing other controlled substances (i.e. codeine) may be legal as long as you have a valid prescription from a physician.
While there are other drug offenses such as selling, manufacturing, and distributing a controlled substance, this article will focus on possessing drugs illegally and the punishments you can be charged with. 
What are the Different Categories of Controlled Substances?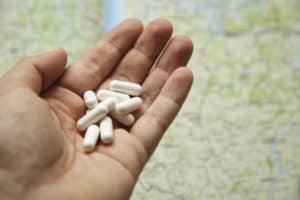 In Indiana, there are 5 types (or "schedules") of controlled substances that are classified according to their characteristics such as their medicinal properties and the potentiality for substance abuse. These 5 types are:
Narcotics

Depressants

Stimulants

Hallucinogens

Anabolic steroids.
Schedule I drugs, chemicals, or substances are defined as drugs with no currently accepted medical use and have a high potential for abuse. Some examples of Schedule I drugs are heroin, lysergic acid diethylamide (LSD), and marijuana. Schedule V drugs, on the other hand, are considered safe for use (small amount) and have a lower potential for abuse than other types of drugs. Indiana's Department of Health has information if you want to know more about drug schedules and classification.
What Are the Possible Crime Charges and Punishment for Possessing Drugs Illegally?
Penalties for drug offenses may vary depending on the amount and type of drug you were caught in possession of, along with other circumstances that may exist which may include any of the following:
The individual already has a criminal record for dealing with and selling controlled substances that aren't hashish, Salvia Divinorum, or marijuana.

The individual has committed a criminal offense while possessing a firearm.

The individual was caught in possession of a drug while riding a school bus, especially in the presence of children, or while inside a correctional jail.

The individual was caught in possession of drug paraphernalia near a school zone, public park, or a drug abuse rehabilitation center. 

The individual delivered the drug to a minor who is at least three years their junior.
Drug charges in Indiana can vary from case to case; they can be classified as a simple misdemeanor or a felony. If you want to know more about these penalties and how you can avoid them, a Goshen criminal defense attorney can help you come up with the best possible legal defense.
What are the Different Types of Possession of a Controlled Substance?
In Indiana, sentencing a criminal offense for drug possession can be classified into two categories:
Simple possession

of a controlled substance

Possession with the

intent to sell and distribute
As you'll notice, the only difference between the two is the amount of controlled substance they possessed. The higher the amount, the more serious the offense.
Aside from the amount, the law also looks at the nature of possession involved, which can either be actual possession or constructive possession. Actual possession is when the offender had direct and physical control over the drug or contraband. Constructive possession, on the other hand, is when the accused doesn't have direct physical control of the controlled substance but they have the ability or intent to possess or control it. 
How a Goshen Criminal Defense Attorney Can Help…
Dealing with criminal charges and prosecution can be scary and overwhelming. If you're involved in an illegal drug possession case, our Goshen criminal defense attorneys have the knowledge and experience to help you with your case. Contact us today at Wilson & Kinsman LLC for an initial free legal consultation.
Share This Story, Choose Your Platform!
Testimonials
Read what our former clients have to say:
A man of utmost integrity
Tom is very kind and personable. He is a great attorney to work for and work with. He is a man of the utmost integrity and is forthright in his practice. I would confidently recommend his legal services to any person I cared about.
Kayla Christofeno
Honest and professional
I was charged with an OWI in Elkhart County and Eric was my first call. He was very helpful and personable throughout the entire process. I certainly appreciated his honesty and professionalism. Eric is definitely well experienced in handling these matters. Thanks to his help and guidance, we were able to have all of our necessary steps done before going to court that helped to retain driving privileges. The judge even remarked at how well the case had been managed during the hearing. With Eric's help, I was able to obtain specialized driving privileges very promptly. I am still able to tend to my life's responsibilities and my work. I would highly recommend Eric to anyone else needing help with OWI/DUI charges.
anonymous